Ciara Launches 2014 Season for Junior Girls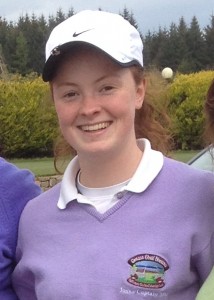 Ciara Lynagh Junior Girls Captain 2014
On Sunday 4th May, we had the inaugural Drive In for our junior girls.  Junior Captain Ciara Lynagh launched the 2014 season of golf for girls and the drive in was followed by a 5 hole scramble. While the weather was very windy, it didn't stop the girls playing a few holes to mark the occasion. Windbeaten but still smiling the girls retired to the club house where Lady Captain Deirdre welcomed them back to golf and Ailis McDermott gave a brief talk about the plans for the year. Ciara presented the prizes to the winning teams and the girls enjoyed some welcome chicken and chips before a photoshoot!
Many thanks to Kieran Burke who helped with the supervision of the girls on Sunday.  The Committee would really appreciate if one parent could accompany each group on the course.  Michelle has organised a  supervision roster for each Sunday so if you are a parent and are free to supervise please contact Michelle who can organise a day for you.
This year Ailis and her Junior Committee Imelda McGovern (Hon. Sec.) and Michelle Keenan will be organising coaching, golf related fun games and competitions to help the girls to get the most enjoyment from their game. The committee hope that by the end of the year all of the girls will have official ILGU handicaps.
The Junior Girls will meet this Sunday 11th May at 3.00pm at the putting green.