Inter-club Competitions
This coming week is a really busy week for the inter-club teams. If you can come out and support any of the matches it would be really appreciated. We could really do with some ball spotters in Bearna if anyone is available.
The first round of the Miele fourball will be played on Wednesday 7th May at 3pm. Bearna meet Galway Bay in this competition. Four players in Bearna and four in Galway Bay at the same time.
On Saturday 10th May at 2.00pm Bearna meet Galway Bay in Round 2 of the Challenge Cup. We have 2 matches at home and 3 away.  Good luck to the Ladies and again supporters and ball spotters are most welcome!
Round 3 of the Irish Mail Foursomes Trophy will take place in Galway Bay on Tuesday 13th May. Siobhan Hunt and Nuala Timoney represent the club in this competition. They have already overcome the strong challenge of both Connemara Golf Club and Galway Golf Club. We wish them luck in the 3rd round.
The Junior Foursomes face Loughrea in Galway Bay Golf Club on Saturday 17th May.
On Saturday the 24th May the Intermediate Team play Galway Bay in Round 2 following their recent win over Loughrea with 2 matches at home and 3 away.
On Wednesday 28th May, the Club Mixed Team meet Oughterard with 3 matches at home and 2 matches away.  We wish them the best of luck in their matches.
Keep an eye on the Inter Club Competition page for result updates. You will also find details of the mens interclub matches. We encourage you to support our Mens teams whenever possible.
Club Match Play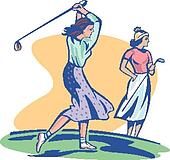 Round 1 of the Hi Lo Competition and Round 2 of the Singles Matchplay Competition must be played by the 31st May.  If you can at all we would advise you to arrange to play your matches as early as possible. A list of 2014 Ladies Club members contact details is posted with the competition drawsheets in the ladies locker room. Remember the player at the top of the draw must contact their match opponents. Please note Barbara O Keeffe has just posted a new rules blog entitled Match Play Rules… This is a very informative blog and draws attention to the differences between Match Play and Stroke Play. We would ask you all to familiarise yourself with theses differences before your matches. Good luck to all involved and enjoy your matches!
Junior Girls Drive In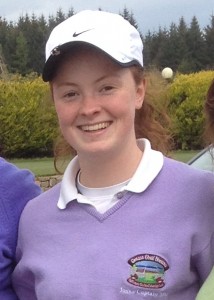 2014 Junior Captain Ciara Lynagh Drives Off
On Sunday 4th May, we had the inaugural Drive In for our junior girls.  Junior Captain Ciara Lynagh launched the 2014 season of golf for the Bearna girls and the drive in was then followed by a 5 hole scramble. The weather was very windy but the girls wanted to start the season off by playing a few holes. Windbeaten but still smiling the girls retired to the club house where Lady Captain Deirdre welcomed them back to golf and Ailis McDermott gave a brief talk about the plans for the year. Ciara presented the prizes to the winning teams and the girls enjoyed some welcome chicken and chips before a photoshoot!
New ILGU Member Cards
Following the recent sponsorship deal between AIG and the GUI/ILGU, all ILGU members have been issued with new ILGU Member Cards. The new card replaces your existing card. The Ladies Club are currently distributing the new cards on Thursday Mornings along with the Green Fee Voucher which is being issued following payment of the course levy of €10 in 2014. If you are unable to collect your card/voucher on Thursday mornings please text Imelda on 0872627461 and she will arrange to leave your card/voucher in the proshop for collection at your convenience.
Club Presentation Night and Mixed Scramble 16th

 

May
Friday 16th of May will be the first prize presentation night of the year.  The presentation of prizes will take place at 8.30pm and will be preceded by a mixed scramble beginning at 5.30pm.  No need to book, just come up and Marian and Gerry will arrange partners for you. Teams will be sent out between 5.30pm and 6.20pm  If you have a prize to collect but cannot make it, nominate someone to collect on your behalf or contact one of the committee.
Club Fundraiser Fourball AM AM
The Annual Club AM AM will take place from Monday 12th to Sunday 18th May. Teams of 4 cost €100 and tee times may be booked with Cathal in the office (091) 592677.  If you would like to participate but do not have a full team, contact Cathal and he will arrange partners for you.
Annual Ladies Club Outing to Athlone Golf Club
This year on Tuesday 20th May the club outing will take place in Athlone Golf Club. The cost is €40 and this includes the competition entry, green fees, tea/coffee and scone on arrival and a light meal. The first tee time is 12 noon.  If you can make it put your name on the list in the Ladies Locker room and your money in an envelope with your name in the Ladies money box (marked for the attention of Catherine Quinlan). We hope you all can make it as it should be a great day out.